Trent Pines is one of the two clones who survived "Double Dipper." He is clone #3
Personality
Edit
Trent Pines

Other Names

3, Trenties

Likes

Wendy, dry snack food, videogames

Dislikes

water

Goal

none

Friends

Mirra, Fourest, Mabel
Trent is much meeker and shyer than Fourest on the outside, but acts this way mainly to avoid causing any conflict that could somehow get him wet. Even though Fourest is just as vulnerable to water as Trent, Trent acts much more finicky and paranoid around water than Fourest.
Note: friends with Mabel because on an accidental meeting, Mabel thought that he was Dipper. (he didn't tell her the truth)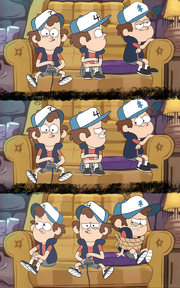 Ad blocker interference detected!
Wikia is a free-to-use site that makes money from advertising. We have a modified experience for viewers using ad blockers

Wikia is not accessible if you've made further modifications. Remove the custom ad blocker rule(s) and the page will load as expected.