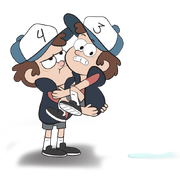 Fourest Pines is one of the two surviving clones from Double Dipper. He is clone #4.
Personality
Edit
Fourest Pines

Other names

No information

Likes

annoying Mirra, making plans, videogames

Dislikes

Water

Goal

To replace Dipper

Friends

Mirra, Trent

Enemies

Dipper, Gideon
Fourest appears fearless on the outside, much less frightened of water than Trent . However, he secretly has many fears, but he thinks that hiding them makes it easier to get Trent to do what he wants. After seeing the other clones and Dipper fight, he held a grudge against Dipper for melting the other clones. Ever since then, he has tried to remove all similarities between him and Dipper, and has gotten Trent to do the same. This is partially why their personalities vary so much.
Fourest loves annoying Mirra as much as possible and ignores her empty threats of getting him wet.
Experience
Edit
For a first person account, click here: http://mf99k.deviantart.com/art/What-Happened-That-Night-332043182?ga_submit_new=10%253A1362091693&ga_type=edit&ga_changes=1
Ad blocker interference detected!
Wikia is a free-to-use site that makes money from advertising. We have a modified experience for viewers using ad blockers

Wikia is not accessible if you've made further modifications. Remove the custom ad blocker rule(s) and the page will load as expected.