Cara Cipher is a dream-demon, but in the end, she seems to be good.​Edit
In 1984, Cara was seen for the first time by Stanford

 in his dreams. 
 She' was looking like Bill, according to the author.'
'The author wrote in his diary about it, but, nobody knows why, pages were found destroyed near his bed, the next day.'     
'Besides Bill, she had another power. She could be a human.'
''Only Stanford could see her, a'''nd guess what, her weak point was him.' 
 Even if she was Bill's wife, Cara had a weakness for Stanford. He was just a simple man, but a man who could know so much about this mysteryous city, this...Gravity Falls!                
She has not been seen since 1984. Even if only he could see her.
She helped Stanford, but subtle.
She was happy ... until Bill found everything.Yes, Bill knew everything. But not everything!She was stronger than Bill so he decided to destroy her.
She was destroyed just a few months before Stanford's disappearing..
Nobody else knew anything about her.
 ==                         FUN FACT: When she turned to a woman and went to the Mystery Shack, Stanley and Stanford argued for her.==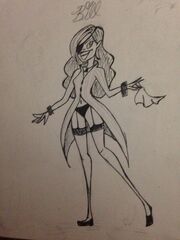 Ad blocker interference detected!
Wikia is a free-to-use site that makes money from advertising. We have a modified experience for viewers using ad blockers

Wikia is not accessible if you've made further modifications. Remove the custom ad blocker rule(s) and the page will load as expected.